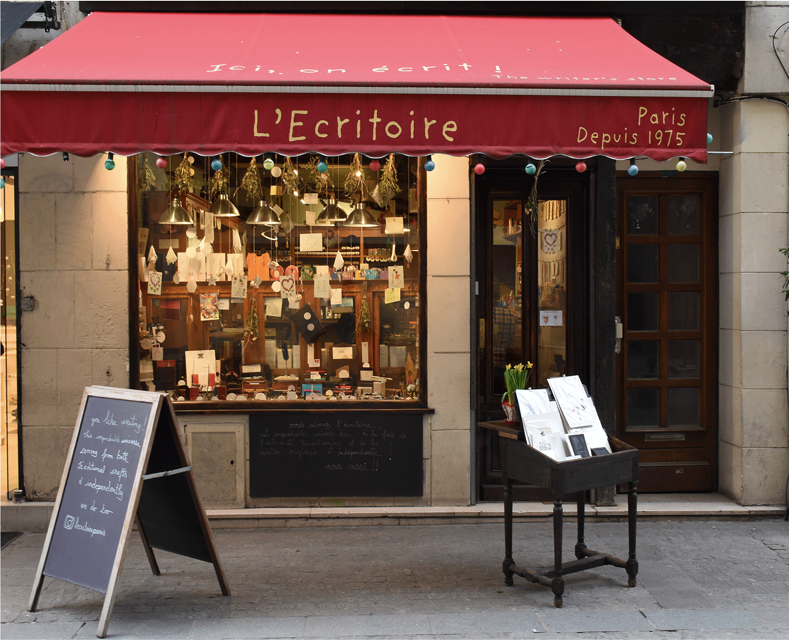 L'ECRITOIRE PARIS
STATIONERY SINCE 1975 AND FAMILY COMPANY SINCE 1881
In 1975, fresh out of school and fingers still stained with ink, Sofie created L'Ecritoire - the Parisian stationery store.
Keeping it in the family, she was following in her grandfather's footsteps André Tardy, a manufacturer and marketer of glass and porcelain school buckets. He was also the inventor of the OPTIMUS 4-colour pen or the bucket flapper allowing the ink not to dry.
45 years later, L'Ecritoire is rich in memories. With its counter always a little ink-stained, L'Ecritoire Paris offers visitors with a passion for writing an endearing universe that comes from traditional heritage, timeless craftsmanship and original and independent creations.
INKS, NIBS, PENS & PAPERS
L'Ecritoire offers a selection of high quality papers and a large collection of fountain pens, writing and calligraphy instruments, colourful and metallic inks, inkwells, notebooks, albums, beautiful letterheads, envelopes of all shapes and colours, a multitude of cards, wax seals, natural multicolored sealing wax, and other creative objects.
Original and quality products...
Made with care and in small series.
A little concentrate of Europe...
Most of our products are made in France, Germany, Italy and Belgium.

Stationery from a little further...
Or very far away, is also made with respect for people and our environment.