Which wax should be used to seal the neck of the bottles?
L'Ecritoire offers two different qualities of bottle wax.
Historically, bottles waxes were used to create an airtight seal around the neck of the bottle in order to protect the cork and of course the contents of the bottle. Nowadays, this ancestral technique is no longer so necessary for the safety of the contents and mainly allows to personalize the exterior of the bottle. L'Ecritoire sealing wax is applicable to the agro-food sector: bottles of wine, champagne, whiskey but also to jars and other craft products such as oils, vinegars, syrups, liqueurs, honey, etc. It also applies to the perfume and cosmetics sector.
What are the different bottle sealing waxes? 
To wax the neck of a bottle, we offer two sealing waxes of different qualities:
- a TRADITIONAL WAX which is shiny and brittle. It crumbles when the bottle is opened. Chart of almost 30 different colors.
- a SYNTHETIC WAX which has a satin and supple appearance. It is cut with a knife like a capsule. Chart of nearly 50 different colors.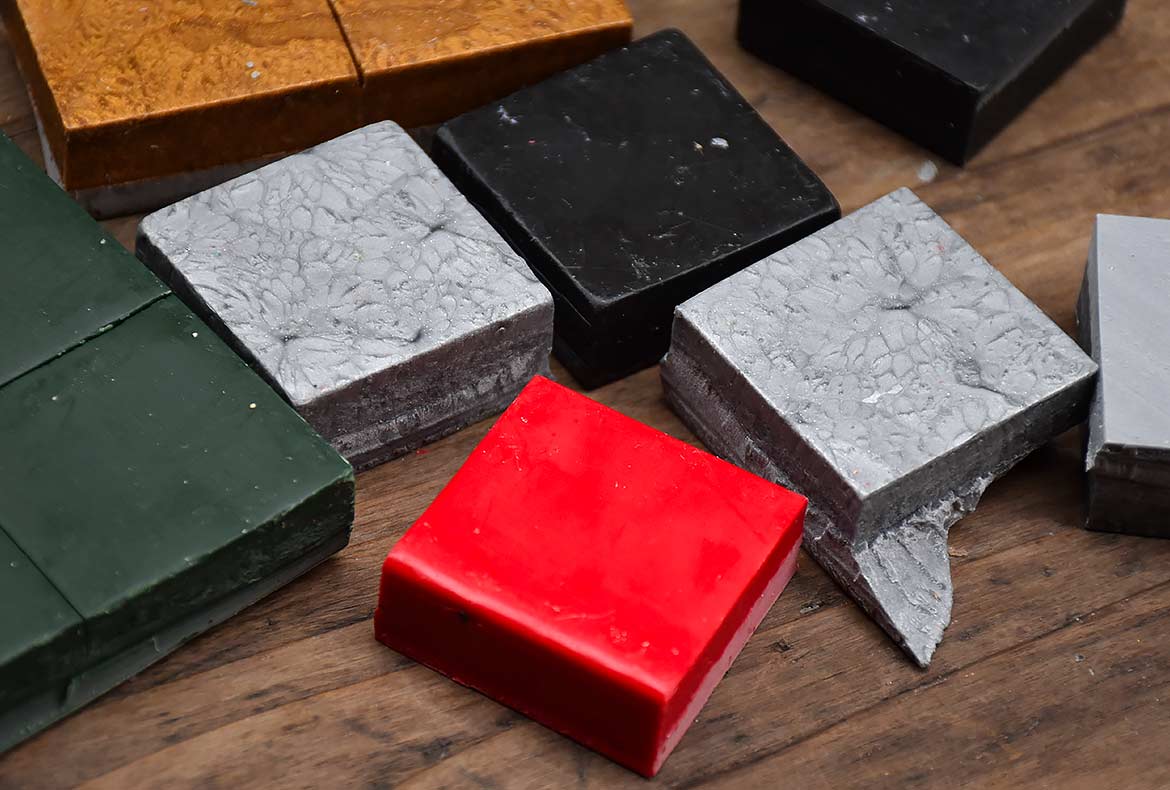 Our bottle wax is handcrafted in France.
It is in the form of a block to be melted; like chocolate tiles.
With 1kg of wax, you can seal nearly 130 bottles; or 7g per bottle neck.
Possibility of creating a custom wax color from a Pantone color.
How to use the sealing wax for bottles?
The first step is to place the wax bottle tiles in a heat-resistant container such as a pot or heating pot. It is easier to choose a container deep enough to allow sufficient coverage of the wax on the bottle. The wax should be melted over very low heat. The ideal is to have a thermometer and aim for a soaking temperature between 60 and 70 ° C.
When the wax is smooth and creamy, and holding the bottle upside down, immerse the neck of the bottle in the sealing wax for a second. Be careful, the bottle should not soak for more than a second in the heated liquid wax.
After the neck of the bottle is soaked, allow excess wax to drip from the end. Turn the bottle upside down by rotating it to prevent the wax from flowing down the neck. Once the bottle is turned upside down, and the wax is still hot, it is possible to use a seal. The latter can be personalized with the logo of a company for example.
L'Ecritoire customize and manufacture in France:
- sealing wax for bottles and flasks from our color chart.
- sealing wax for bottles and flasks from a Pantone color of your choice.
- wax seal stamp from a company logo for example.
Please contact us by e-mail for any quote request.